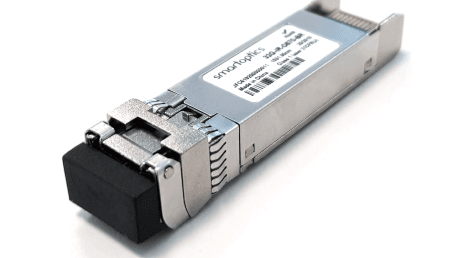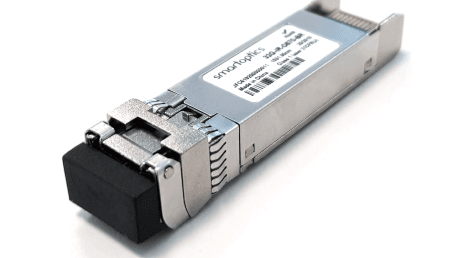 SFP28 32GFC/25GE/10GE CWDM 10km 9.4dB LC
A multi-protocol SFP28 CWDM transceiver for 32GFC and 25G/10G Ethernet applications
Product information
The SO-SFP28-32GFC-LR10-Cxx is a CWDM SFP28 transceiver for 32G Fiber Channel (FC) services, also supporting 25Gbps and 10Gbps Ethernet. The transceiver can also be used for transport of single lane 25G Ethernet and 10GbE services. The optical performance provides a bridgeable distance of up to 10 km for 32G FC.
The transceiver has a Rate_Select function compliant with SFF-8472 Rev12.2 where a switch between 32G FC, 25GbE and 10GbE is done. The transceiver is available in 4 CWDM wavelength versions, spanning from 1270nm to 1330nm in accordance with the G.694.2 standard.
As stipulated by the 32G FC and 25G Ethernet standards, Forward Error Correction (FEC) is required to be implemented by the host in order to ensure reliable system operation. The optical parameters below will provide a bit error ratio (BER) of 1 x 10-6 for 32G FC. FEC will provide the required quality for secure service.
This transceiver provides digital diagnostic functions via a 2-wire serial interface as defined by the SFF-8472 specification.
Four products: SO-SFP28-32GFC-LR10-C27, SO-SFP28-32GFC-LR10-C29, SO-SFP28-32GFC-LR10-C31 and SO-SFP28-32GFC-LR10-C33
Specification
SFP28 transceiver with LC connectors
Four CWDM channel versions;  1271nm, 1291nm, 1311nm and 1331nm
Typical reach 10km over SM fiber
Support for 32G FC, 25G Ethernet, 10GbE WAN/LAN
9.43dB power budget for 32G FC
Less than 1.2W power consumption
C-temp operating conditions 0°C to +70°C