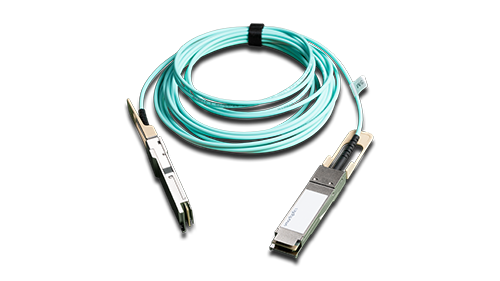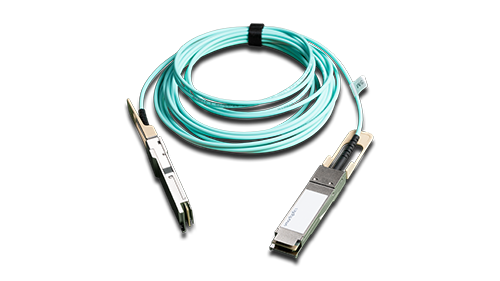 QSFP-DD 400G Ethernet-SR8, Active Optical Cable AOC MM CMIS4, 1-30m
An Active Optical Cable (AOC) for 400Gbps using CMIS4.0 management interface
Product information
The SO-QSFPDD-AOCxxM-4 is an Active Optical Cable (AOC) solution for short-range multi-lane data communication and interconnect applications. The solution consists of two QSFP-DD transceivers connected via an OM4 MultiMode optical cable of different lengths for 400Gbps Ethernet interconnects. The electrical interface of the module is compliant with the 400GAUI-8 interface and compliant with QSFP-DD MSA.
SO-QSFPDD-AOCxxM-4 integrates eight data lanes (25Gbd) in each direction using PAM4 modulation with 400 Gbps aggregate bandwidth.
The SO-QSFPDD-AOCxxM-4 cables have an I2C interface with Integrated Digital Diagnostic Monitoring according to the Common Management Interface Specification (CMIS 4.0).
The SO-QSFPDD-AOCxxM-4 is provided in lengths from 1 to 30 meters (3.3 to 98.4 ft).
Specification
2x QSFP-DD transceivers with Multimode fiber cable
8x 26.5625GBd (PAM4) Electrical Interface (400GAUI-8)
Digital diagnostics functions via the I2C interface CMIS 4.0
1 to 30 meters (3.3 to 98.4ft)
Low power consumption; <10W
Operating temperature 0°C to +70°C (32°F to +158°F)