THE ADVANTAGES OF A DISTRIBUTED DWDM NETWORK
Dense Wavelength Division Multiplexing (DWDM) has long been the technology of choice for transporting large amounts of data between sites. The main advantage is that it increases bandwidth by allowing different data streams to be sent simultaneously over a single optical fiber network. Installing new cable is costly and time-consuming, so a DWDM network helps maximize the usefulness of existing fiber, optimizing the network investment.
This is the approach traditionally favored by carriers and service providers. DWDM networks can also be used by corporate and governmental organizations who want to get the most out of their fiber networks, but many companies have yet to take advantage of the approach.
Traditional DWDM systems are designed for telco operators, not corporate data centers
The basis for the modern DWDM network has been driven by the needs of telecom networks, who need to maximize traffic and require a specific set of management features. These networks need to be "all things to all people", and have generally been designed as vertically integrated, fixed systems with features that are suited to the needs of carriers. But for datacom applications, such systems are far too rigid and expensive – they weren't designed for corporate data centers' needs.
The vertical integration usually also results in systems that have a large number of individual traffic and control cards for each of its various functions. These include traffic line cards, amplifiers, mux/demuxes, network management cards, and cards for dispersion compensation. The cards usually fit inside a 19" chassis system as vertical slot-in cards, which results in large real estate requirements. There's also a need for a specialized level of telecom transmission knowledge to operate and manage them. Even though a DWDM network would, in theory, help corporate data centers maximize their investment, the rigidity and requirements of the telco-designed systems cancels out most, if not all, of those benefits.
This is highlighted when only a few traffic channels are required in a DWDM network, resulting in an excess of empty space in the chassis.
Vertically integrated fixed DWDM Telco system with numerous plug in cards
Distributed DWDM for distributed data centers
The racks and switching equipment in a data center are often distributed across a floor or over the span of a building. They are not all conveniently close together, which would allow for simple cabling to a centralized DWDM chassis system. As the Ethernet equipment is spread across the floor, so the DWDM networking equipment for transporting traffic between data centers also has to be distributed through the building.
Data center room with distributed switching and routing equipment
Because DWDM systems are typically large and fixed equipment, it's not possible to distribute them throughout the data center. All traffic that requires access to the DWDM network therefore must be cabled from the switching equipment back to the central system, which makes cabling, where it's possible, messy and complicated.
A traditional DWDM network also generally requires a significant amount of power, due to its size and rigidity, but a system designed to be decentralized can use low-powered modules with a smaller footprint.
In an ideal world, each switch or module that required DWDM connectivity could be connected to its own DWDM module, and these decentralized modules would sit in the same racks as the switches or routers whose traffic they need to transport. Distributed DWDM architecture in the data center could mirror the layout of the switches and routers, minimizing cabling to the DWDM network nodes.
Line outputs could still connect back to a common multiplexer, to gather all these traffic signals together, using standard cables and connectors. With distributed DWDM, it's possible to create a new degree of network freedom that not only simplifies cabling, but takes much of the unwanted cost and complexity out of the data center.
It's not realistic for corporate data centers to simply adapt systems designed for telecoms carriers who have vastly different needs. Adapting such systems incur unwanted costs and complexity, but moreover, they are a workaround, not a system fit for purpose. Smartoptics offers products and platforms that enable companies and organizations to build distributed, flexible DWDM networking designed for their specific needs.
To find out more about flexible, cost-effective distributed DWDM networks, download the Smartoptics guide to simplifying 100G DWDM connectivity.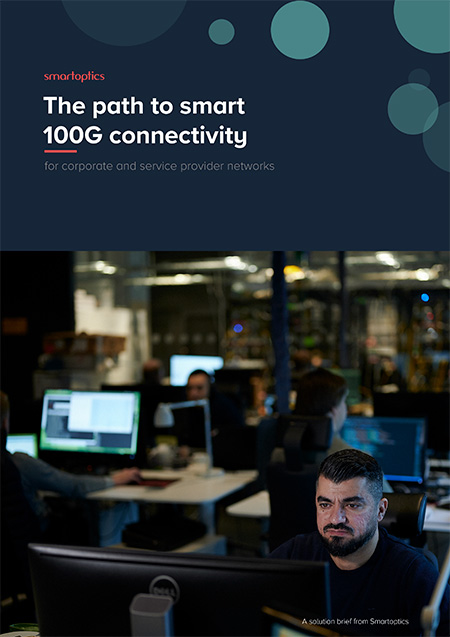 The path to smart 100G connectivity
Learn more about upgrading your network to smart 100G connectivity
In today's rapidly expanding IT landscape, many organizations are faced with the challenge of fiber exhaust. Installing additional fiber infrastructure is often impractical due to permitting roadblocks, construction delays, and financial constraints. To...