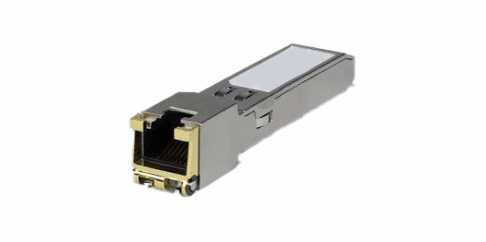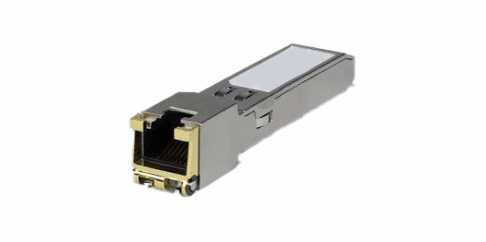 SFP 1GBASE-T 100m I-temp RJ45
An electrical SFP transceiver for 1Gbps Ethernet services
Product information
The SO-SFP-1000BASE-T-I is a transceiver with a high-performance integrated duplex data link for bidirectional communication over copper cable. It is specifically designed for high speed communication links that require 1Gbps Ethernet (GbE) over a LAN cable (CAT5 UTP or better).
SO-SFP-1000BASE-T is a solution for 1Gbps Ethernet connections within racks and across adjacent racks where the interconnected equipment uses SFP interfaces instead of RJ45.
This transceiver provides digital diagnostic functions via a 2-wire serial interface as defined by the SFF-8472 specification.
Specification
SFP transceiver with RJ45 connector
Typical reach 100m using CAT5 LAN cable
Support for 1Gbps Ethernet services
Less than 1.2W power consumption
I-temp operating conditions -400°C to +85°C