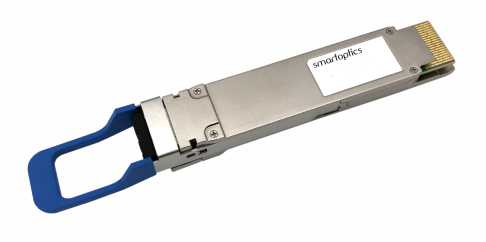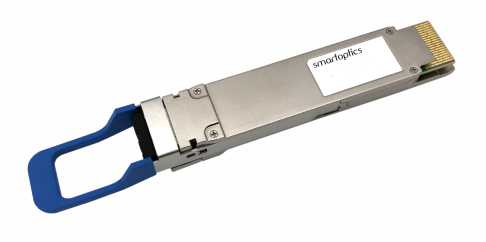 QSFP-DD 400G-FR4 SM 13xxnm 2km 4dB CMIS3 LC
A 2km QSFP-DD form-factor transceiver for 400Gbps Ethernet applications over a fiber-pair
Product information
The SO-QSFP-DD-4C-FR4 is a QSFP-DD form-factor transceiver for 400Gbps Ethernet applications. It is intended for use in data center interconnect between switches, routers, storage equipment etc. for optical distances up to 2km over a SingleMode (SM) fiber cable.
The electrical interface consists of eight 53.125G signals (400GAUI-8) that are converted to eight PAM4-modulated channels/lanes to transport the Ethernet signal. The transceiver can also be set in 4x100GAUI-2 mode (application code 2) to enable 400G to 4x 100G break-out configurations. Digital diagnostics functions are available via an I2C interface, as specified by the QSFP-DD MSA.
Forward Error Correction (FEC) is required to be implemented by the host to ensure reliable system operation. The FEC type shall be as defined in IEEE802.3bj, i.e. Reed Solomon RS(528,514). The optical parameters will provide a bit error ratio (BER) of 2.4 x 10-4.
The optical interface to the transceiver is 2x LC connectors.
The transceiver is compliant with Common Management Interface Specification CMIS3.0.
Specification
QSFP-DD type 1 with 2x LC connectors
4x PAM4 modulated CWDM lanes; 1271nm, 1291nm, 1311nm and 1331nm
Compliant with 400GBase-FR4 MSA
Compliant with CMIS3.0 management interface
Up to 2km distance, 4dB power budget
Less than 10W power consumption
C-temp operating conditions (0°C to +70°C)