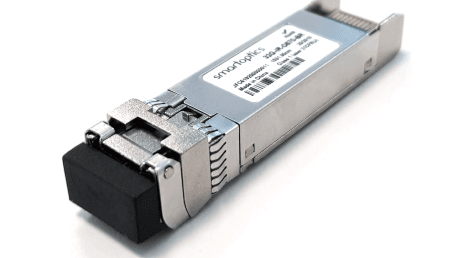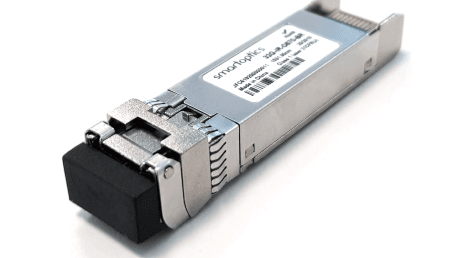 SFP28 25G LANWDM SM 21dB 30km E-temp LC
A dual-protocol LANWDM SFP28 transceiver for 25G Ethernet and CPRI applications
Product information
The SO-SFP28-LWDM-x-E is an SFP28 form-factor transceiver for 25 Gbps Ethernet applications. The transceiver is intended for use in interconnect applications between data centers with switches, routers and in 5G mobile networks. The optical performance supports distances up to 30km over a SingleMode (SM) G.652 fiber. SO-SFP28-LWDM-x also supports the high data rate CPRI Option 10 for fronthaul applications having a bit rate of 24.33024 Gbps.
The SO-SFP28-LWDM-x is provided in eight different wavelength versions according to the LANWDM wavelength grid where the SM fiber has its lowest dispersion properties.
As stipulated by the 25G Ethernet standards, Forward Error Correction (FEC) is required to be implemented by the host equipment in order to ensure reliable system operation. The optical parameters below will provide a bit error ratio (BER) of 5 x 10-5 for 25G Ethernet. FEC will provide the required quality for secure service.
Digital diagnostics functions are available via an I2C interface, as specified by the MSA.
Eight products: SO-SFP28-LWDM-A-E (1295.56nm), SO-SFP28-LWDM-B-E (1300.05nm), SO-SFP28-LWDM-C-E (1304.58nm), SO-SFP28-LWDM-D-E (1309.14nm), SO-SFP28-LWDM-E-E (1277.89nm), SO-SFP28-LWDM-F-E (1282.26nm), SO-SFP28-LWDM-G-E (1286.66nm), SO-SFP28-LWDM-H-E (1291.10nm),
Specification
SFP28 transceiver with LC connectors
Typical reach 30km over SM fiber
Eight transceivers using LANWDM channels
Support for 25G Ethernetand CPRI Opt 10
21dB power budget
Less than 2.2W power consumption
E-temp operating conditions -20°C to +85°C